Demo 2017 Fiat 500 Twinair Pop Star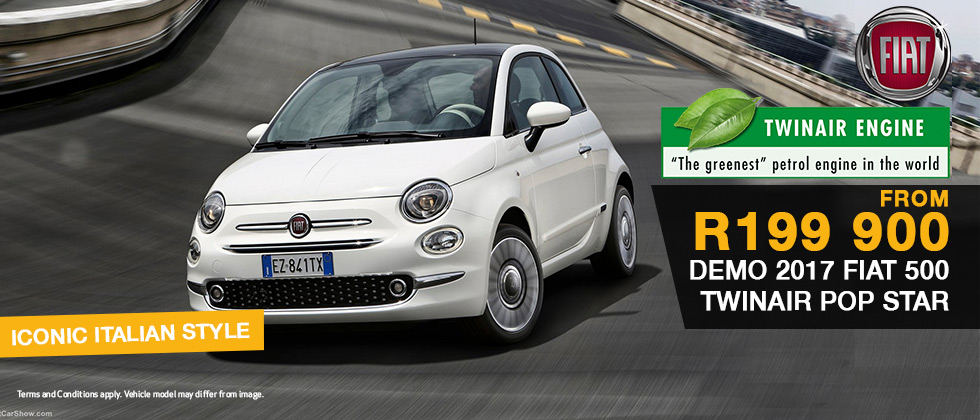 Iconic Italian Style
Get the iconic new Fiat 500 Twin Air Pop From Only R179 900. You get the greenest petrol engine in the world saving you many more bucks. Speaking of saving, William Simpson has an even better deal, head down to William Simpson with your old vehicles scrapping certificate and get up to R40 000 towards a brand new or pre-owned, pre-loved Fiat 500 car. Terms and conditions listed below.
*Terms and conditions of scrapping campaign:
1. Offer valid on the purchase of any New /Used Fiat vehicle.
2. Receive up to R40,000 Trade in Assistance on the purchase of your New/Used Fiat upon presentation of:
a. De-Registered / Scrapping certificate of your old vehicle.
b. Proof of Ownership of Scrapped Vehicle - Natis Doc, etc.
c. The vehicle needs to have been registered in Owner/Title Holder for at least 6 months.
3. If a customer wishes to Scrap/Deregister their vehicle this needs to be done individually at the required licencing office as per eNatis regulations prior to visiting the dealership.
4. Dealerships will not be able to Scrap / Deregister on behalf of the customer.
5. Normal Trade-In terms apply if the customer does not have a scrapped vehicle. The dealer will assist with the best offer available for assessing customer vehicle.