Fiat 500X Pop and Cross

The details make for perfection
Legends don't get old: they evolve. This is why 500 has renewed its exterior, interior and technology. Because it's true, perfectionists are always in search of a new kind of perfection.
Uconnect™ Link: Apple CarPlay
The new 500 operates with Apple CarPlay.
Apple CarPlay is the smartest, safest way to use your iPhone at the wheel. With the key functions and main Apps specifically adapted on the screen of your 500, you can access navigation info, make calls, send and receive messages and listen to music without taking your mind off the road.To manage the main functions of your smartphone you can use the voice commands thanks to Siri, or the touchscreen and steering wheel commands.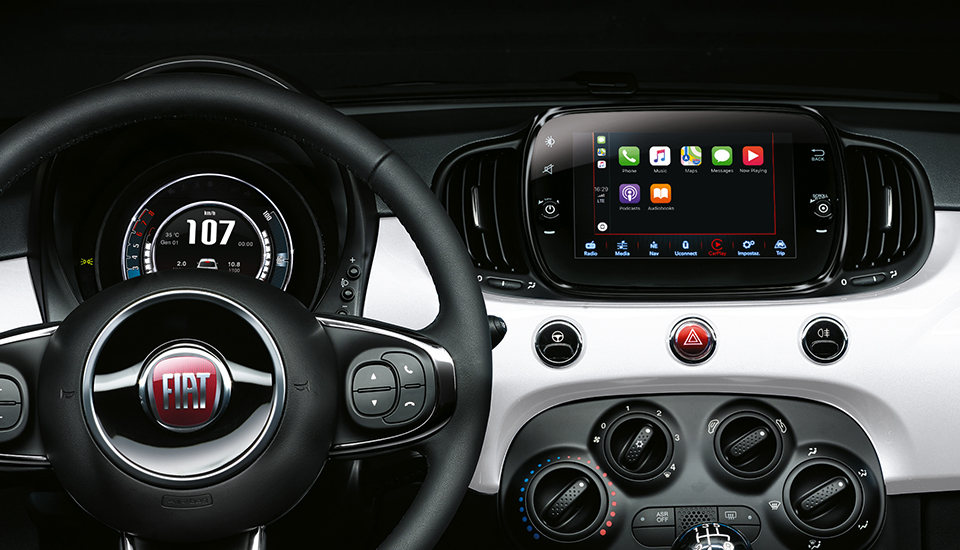 What's your top 500?
Journeys are more enjoyable with your favourite tunes: on board the 500 you get Uconnect Radio, a simple but comprehensive sound system with AM/FM tuner, USB/AUX inputs and steering wheel controls. So connect your devices and listen to all the music you want, however you want.
500% safe
Count on it: this is the 500, the compact car that has its passengers at heart. Your safety and that of your friends and family are assured thanks to 7 standard front and side airbags

Straight out of the blocks
Worried about hill starts? Pulling away smoothly is even easier with the 500, including on inclines, thanks to the Hill Holder function, which helps by preventing the vehicle from rolling backwards.

Singing in the rain
The rain or the change in light conditions are no longer your problems. The sensor automatically picks up any reduction in light and turns on the headlights. Instead, in case of rain, it activates the windscreen wipers. And you can just carry on whistling.
Always in control
Drive with peace of mind: with the 500 you have total control even during emergency manoeuvres or on slippery surfaces, thanks to ESC stability control with ABS and Hill Holder.