News > All-new 2021 Jeep Grand Cherokee Breaks New Ground in the Full-size SUV Segment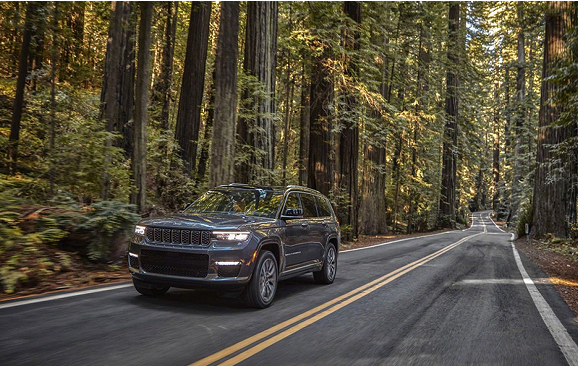 The All-new 2021 Jeep Grand Cherokee has been unveiled and as expected this flagship of the Jeep brands is pulling no punches. The Grand Cherokee holds the title of the most awarded SUV ever and is widely considered by some to be the first modern luxury SUV. This new generation is bringing new technology and design to ensure it maintains this title for years to come.

Almost 30 years ago the first-generation Jeep Grand Cherokee broke many preconceptions of what an SUV could be offering comfort and luxury along with great off-road capability leading to almost 7 million Grand Cherokee's sold since then. If these last 30 years are anything to go by, the next Grand Cherokee is going to be better than ever.

The biggest change that customers will note with this new generation is that the Grand Cherokee is now being offered with seating for 6 or 7 while delivering even more on-road refinement and premium styling inside and out.

"When you set out to reimagine an SUV as beloved as the Jeep Grand Cherokee, building on its nearly 30-year legacy as an overachiever is paramount to every decision that is made," said Christian Meunier, Global President of Jeep Brand – FCA. "With that legacy guiding the Jeep team, the new 2021 Jeep Grand Cherokee is crafted to exceed expectations and do what no other SUV can do: deliver legendary Jeep 4x4 off-road capability blended with superior on-road manners. It is built on an all-new architecture and wrapped in a stunning new design that honours its iconic Jeep design heritage, while also extending to accommodate a third row to meet the growing needs of our Jeep customers who have asked for more space and functionality. The Grand Cherokee L truly stands out in its segment and continues to raise the bar in capability, performance and luxury, while also breaking new ground in versatility and functionality."

Jeep legendary 4x4 capability
Like its predecessors, the 2021 Jeep Grand Cherokee L delivers better off-road capability while also delivering better on-road driving performance. Fitted with 3 different 4x4 systems all capable of taking the Grand Cherokee off-road and back.
As with the previous generation, the Quadra-lift air springs return adding up to 106mm when off-road and offering a superior ride when on-road. The crawl ratio is 44:1 and with the air suspension doing its thing the Grand Cherokee L features a 30.1-degree approach angle, a 23.6-degree departure angle and a 22.6-degree breakover angle.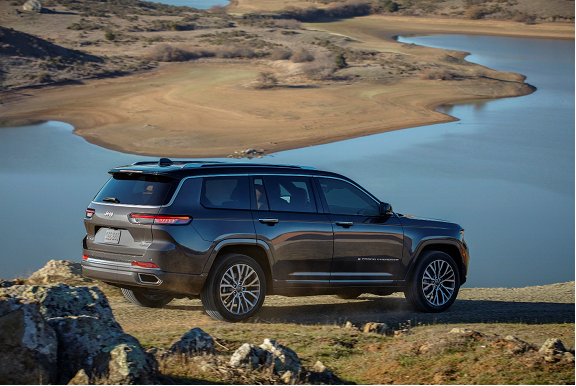 Award-winning powertrains
Two engines will be available at launch for the new Grand Cherokee L, the standard engine is the 3.6L V6 Pentastar engine now at 216kW with 348Nm of torque. This engine is known for its power and smoothness. It is also the 7-time winner of the Wards 10 Best Engines and Propulsion Systems award. It is now fitted with a more advanced Stop/Start system to allow for even better efficiency. Additionally, the 5.7 Hemi V8 is also an option in the range though there is likely a stronger chance of a diesel motor as an alternative for the South African market.

Design: Unparalleled refinement, uncompromising craftsmanship
Exterior
"The Jeep design team envisioned a modern aesthetic for the all-new 2021 Grand Cherokee L – they worked to sculpt it down and gave it a clean and updated premium appearance tailored for today's customer," said Mark Allen, Head of Jeep Exterior Design, FCA. "The design for the first-ever three-row Grand Cherokee pays respect to its heritage and honours its utilitarian roots. The results reflect its premium characteristics, contemporary style and legendary capability that has defined the Grand Cherokee since its inception."

The exterior design is distinctive with a whole new look from the previous generation now taking influences from the original Jeep Wagoneer with a more squared-off classic look. By using advanced technology like active grille shutters to improve aerodynamic performance, LED lighting is also standard across all trim levels which has allowed the design team greater flexibility in terms of lighting design front and back on the vehicle.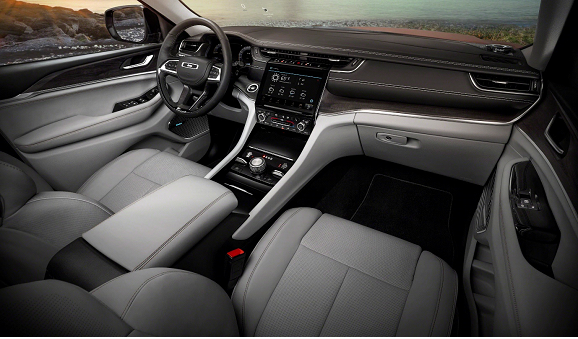 Interior
For the interior of the new 2021 Jeep Grand Cherokee L, the design team knew that they had to create a new high point for Jeep interiors. Using handcrafted materials and close attention to detail combined with modern technology the result speak for itself.

Space-wise the larger wheelbase (3091mm) allows for an increased cargo volume, third-row seating and class-leading legroom for the second row. The second-row doors were designed with increased access in mind and now open 64 degrees.

In terms of entertainment, the new Grand Cherokee features the most advanced Uconnect system ever installed in a Jeep, now featuring a 10.1-inch display. The biggest improvement to the system comes from faster-operating speeds and now use an Android operating system that can make use of over the air updates.

The 2021 Jeep Grand Cherokee L will be the first Jeep to offer a digital rear-view mirror. These feed video from a rear-facing camera and offer the driver a cleared view than is possible from a standard rear-view mirror.

For the sounds system Jeep approached McIntosh to design and supply a handcrafted high-end audio system specifically for the Grand Cherokee. It delivers a world-class audio experience and marks the first vehicle manufacturer to partner with this brand.

We still await confirmation of when the Grand Cherokee is expected to arrive in South Africa and what the final spec we will see on our shores but we can be guaranteed that when it does arrive it will be a hit.