News > FCA to join forces with PSA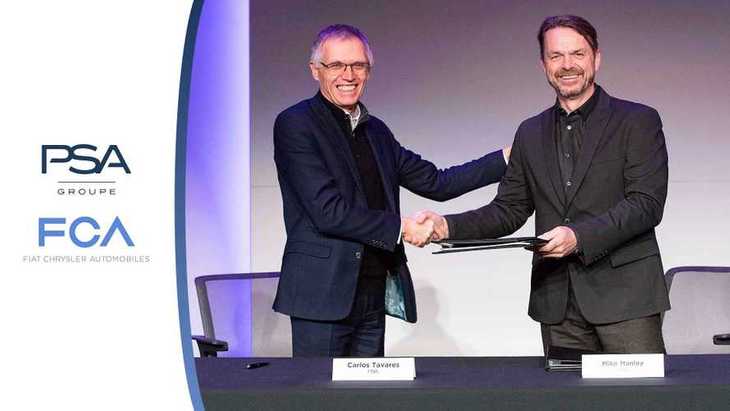 FCA to join forces with PSA
Fiat Chrysler Automobiles and Peugeot S.A are merging to create the 4th largest OEM in volume terms, seeking to scale to cope with costly new technologies and slowing global demand. A Combination Agreement was signed that will result in the automotive giants merging in an effort to be at the forefront of a "new era of sustainable mobility". When complete, the new entity will be the 4th largest OEM by volume with 8.7 million units, the 3rd largest by revenue with €170 billion and an expected operating profit of over €11 billion.
By combining financial strength and skills, the new entity will be able to provide innovative and sustainable mobility solutions while leveraging the efficiencies derived from larger volumes. FCA would get access to PSA's more modern vehicle platforms, helping it to meet tough new emissions rules, while Europe-focused PSA would benefit from FCA's profitable U.S business featuring brands such as Ram and Jeep.
The vehicle portfolio will be broad including mainstream passenger cars, luxury and premium vehicles, SUV's, Light Commercial Vehicles and trucks. More than two-thirds of the run-rate volume will be focused on 2 platforms with approximately 3 million units expected to be produced per year on each of the small and compacts/medium-size platforms.
Carlos Tavares, Chairman of the Managing Board of Groupe PSA, said that the merger is a huge opportunity to take a stronger position in the auto industry as they seek to master the transition to a world of clean, safe and sustainable mobility and to provide customers with world-class products, technology and services.
Mike Manley, Chief Executive Officer of FCA added that this is a Union of the two companies with incredible brands and a skilled and dedicated workforce. Both have faced the toughest of times and have emerged as agile, smart, formidable competitors. Their people share a common trait, they see challenges as opportunities to be embraced and the path to making them better at what they do.
The merger is expected to be completed in 12-15 months. William Simpson will keep you updated as this story further develops.