News > Fiat chooses Geneva to celebrate 120 years of history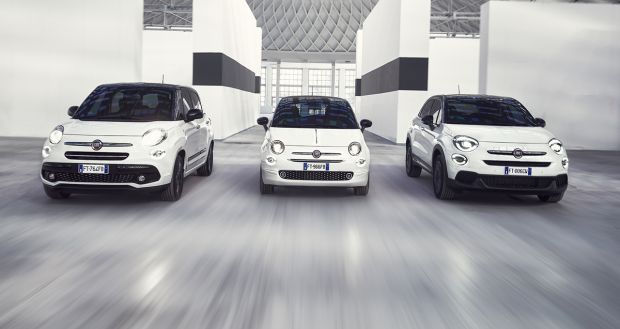 Fiat chooses Geneva to celebrate 120 years of history
The prestigious stage at Geneva will be hosting the launch of Fiat's new 500 '120th' family! Available on 500, 500X and 500L, the new range is the most elegant to date, and celebrates Fiat's 120th birthday – an incredible milestone that only a few car manufacturers manage to achieve. Fiat are also reaching another chapter in their book with connectivity increased that was already explored in the 500 Mirror family in 2018.
Geneva visitors can explore how the Fiat connectivity is always simple, safe and intuitive. All of these are cornerstones of Fiat tradition to give users solutions that are easy to use but still capable of reaching modern day requirements. Since 11 July 1899 when 'Società Anonima Fabbrica Italiana di Automobili – Torino' was launched, a lot might've changed, but the way the car is experienced has remained the same.
The event will also pay host to the debut of the new Panda Connected by Wind, which comes as a result between Fiat and Wind, and boasts another way of 'connectivity according to Fiat'. Fiat want drivers to experience this car as being 100% connected, contemporary and safe.
The most elegant range ever
Geneva hosts the world debut of these models, where the visitors can see the three version of the 500 120th family editions sporting a two-toe Tuxedo livery – an all-new feature for the 500X. The three versions include 500X 120th 1.0 FireFly Turbo with 120 HP, 500 120th .09 Twin Air with 85 HP and the 500L 120th 1.3 MultiJet with 95 HP.
The Tuxedo name pays homage to the ceremonial suit with an exclusive matching key cover, copper details and an elegant interior that sports the Fiat logo with the 120th wording and connectivity or streaming symbol. The car also offers a Uconnect 7" HD LIVE touchscreen with Apple CarPlay and Android Auto. Apple CarPlay gives you full control of your iPhone, without actually touching your iPhone. The new feature of Android Auto gives you full access to your Android while keeping your hands on the wheel.
Fiat 500X 120th
Something this Italian crossover is flaunting for the first time ever is the Tuxedo two-tone livery. The suit is available in four colours and can be chosen in Pearl Tuxedo (Pearl White and black) and Silver Tuxedo (Silvery Grey and black).
The livery also has a set of black caps on the rear-view mirrors, side sills and chrome window frames with 16" (or 17" on request) alloy wheels with a dark finish. The front dons Full LED headlamps that are 160% more powerful than halogen lamps as well as being safer and less energy-consuming.
The exclusivity of the range stands out when it comes to the interior with copper coloured upholstery and several matched fine elements like the fascia of the black control panels and armrests on the doors.
This specific model oozes comfort with a full range of standard equipment that ranges from dusk and rain sensors, automatic headlamps, to a full parking guide system. To enhance the comfort of driving, the car comes with a choice of four engines: 1.0 FireFly Turbo with 120 HP, 1.6 E-torg with 110 HP, 1.3 MultiJet with 95 HP and 1.6 Multijet with 120 HP. All with 5 or 6-gear manual transmissions.
The range takes it even further with liveries that include Gelato White, Pearl White, Silver Grey and Cinema Black with matching dashboards and the exclusive two-tone Pearl Tuxedo and Silver Tuxedo versions, with a matching black dashboard and details.
Fiat 500 120th
The 500 as we know as it also makes an appearance in the new 120th outfit with the new two-tone Tuxedo suit. It has an exceptionally elegant line that has been enhanced a chrome sill on the bonnet, 16" allow wheels with copper finish and black roof. The elegance draws through to the passenger section to make a bold impression of the black fascia dashboard and pinstripe fabric on the seats. The top is vinyl with embroidered 500 logo, and full equipped with fog lamps, 50/50 rear seat and personalised mats. The model comes in a variety of Cortina Grey, Carrara Grey, Vesuvius Black, Ice White and Gelato White, with a 1.2 69 HP engine, 0.9 Twin Air Engine with 85 HP or 1.2 LPG engine with 69 HP.
Fiat 500: 120th
To 500L 120th does the job of completing this new 500 family and dons the elegant two-tone Tuxedo livery as well. The Myron bumpers, side sides and two-tone 17" alloy wheels with shiny black and chrome finish on the front grille enhance the livery.
The interior is sophistication personified with black fascia on the dashboard and grey upholstered seats with black eco-leather that is enhanced by the copper shaded stitching and 500 logo. The fog lamps, dusk and rain sensors and rear parking sensors are a standard of the 500L 120th, but customers get to choose other engines with this model that include the 1.4-litre Fire petrol engine with 95 HP and 6-speed manual transmission, the 1.3-litre MultiJet II Turbo diesel with 95 HP and manual or Dualogic Robotised transmission, or the 1.6-litre MultiJet with manual transmission. The livery and colours on the model leaves customers spoilt for choice – you can choose the two-tone Tuxedo version, or some other options like Gelato White, Cinema Black, Maestro Grey, Moda Grey, or switch up the two-tone Tuxedo to Maestro Tuxedo (Maestro Grey with a black roof) and Moda Tuxedo (Moda Grey with a black roof).
Uconnect 7" HD Live touchscreen and compatibility
The Uconnect 7" HD LIVE touchscreen is a standard in all the 500 120th editions and makes for a safer and more engaging driving experience. The system is Apple CarPlay and Android Auto ready, and provides a next-generation high-resolution 7-inch touchscreen, Bluetooth hands-free, audio streaming, text reader, voice recognition function and USB ports with iPod integration that can all be controlled on the steering wheel.
Some features on Apple CarPlay include making and receiving phone calls, sending and receiving text messages, streaming music as well as use of other apps like Messages, AudioBooks and Apple Podcasts, all while keeping your focus on the road. CarPlay also features Siri voice control for driving scenarios. The system is also Android Auto ready where drivers can have the Android experience while driving to make your trips safe and easy by projecting apps and services and allows for retrieving information easier while on the road. The driver can also access Google Maps or Waze for trip guidance and access music, their favourite message apps and more.
Mopar Connect
All the vehicles in the new 500 120th range include Mopar Connect, an advanced connectivity feature that offers roadside assistance while monitoring the condition of the vehicle in real-time via your smartphone. Integrating Uconnect LIVE services to add new functions like roadside assistance and help in case of accidents, the system can be used to control some of the vehicle's functions remotely as well, like an alert when the car exceeds a speeding limit, locking and unlocking the doors, and more. Mopar Connect also allows users to locate their parked car using their smartphones.
Panda Connected by Wind
The new Panda Connected by Wind special edition is making its world debut at Geneva as well, as comes as a result of partnership between Fiat and Wind. Wind Tre is a major player in the mobile market in Italy and a main operator in the landline market too. The car has an entirely new look and is bursting with all the features like 4G internet connectivity. Together with Fiat, Wind has been serving families for 20 years and will be offering them the chance to stay connected to the Wind Tre network even when they're on the move, thanks to the Wind SIM and Wi-Fi router.
With a 'LinkZone 4G' Wi-Fi router where up to 15 devices can be connected, the Connected by Wind edition is fully enhanced by technology. The special edition can also be turned into a hotspot with no need to install any software of extra devices ad creates a wireless network to use the internet and other services. Customers can connect to the Uconnect app and access all its functions that unclude Waze, music, data traffic and other offers exclusive to the Panda Connected by Wind.
Users will be able to take the Wi-Fi router with them when the step out the car and have the freedom of connectivity wherever they go. The device is powered by a built-in battery and can be charged in the 12V socket. You can even go as far as to use international roaming services in the European Union! To continue the path of user-friendly technology, Panda Waze was launched, which is the most social city-car to offer integration with the Waze app.
Being the best-selling vehicle in Italy since 2012 and looking to expand their community of 7.5 million owners, the Panda Connected by Wind is destined to be a leader.
The car flaunts a special '120' badge and 'Connect by Wind' with gloss black accents on the skid plate, door handles and 15-inch bi-alloy wheels. Two optional exclusive features include a black roof and orange mirror caps with the white livery. These colours showcase Fiat and Wind.
The black fabric seats with white and green contrasting seams ooze a sense of being young. Together with Radio U-Connect Mobile and a smartphone cradle to stay connected no matter what.
The Panda Connected by Wind comes with a 1.2-litre 69 HP engine.
Tipo Sport
A top of the range edition in collaboration with Mopar will be launched the motor show – the Tipo Sport 5-Door – with a white livery and black roof.
The display model sports a Pastel White paint job with contrasting black roof (the door mirror caps and handles also don this black) and a 1.6 Multijet 120 HO engine and DCT automatic transmission. The car has many elements that take it back to the sporting wold like the front and rear bumpers, side skirts, rear diffuser, spoiler on the roof and fog light bezel. Adding to this sporty look the 18-inch alloy wheels are completed with a Gloss Black treatment and diamond finish on the wide grille. Customers can specify for Bi-Xenon technology on the headlights over the standard version as well.
The passenger area sees the same exclusivity with a Total Black ambience that boosts leather and fabric seats with double-stitched seams and cross-pattern techo-leather upholstery on the gear level and steering wheel. The vehicle also comes standard with Uconnect 7" HD LIVE touchscreen that is Apple CarPlay and Android Auto ready.
The Tipo line-up include three body variants: 4-doors, 5-doors and Station Wagon; as well as four trim levels: Street, Mirror, S-Design and Sport. These are all capable satisfying a diverse range of ages, tastes, and customer needs. The younger clientele that are going for a strong and sporty look will go for the S-Design and Sport. The Mirror is aimed for consumers who need space and also want to stay connected at all times, and the Street is for young customers who want to enjoy a good-looking style with lots of space and comfort.
In less than three years after the Tipo Sport launched, it has become a leader in its segment in Italy and can proudly say its in the top 10 in four European countries as well. It also happens to be Fiat's second most sold global car, with 70% being sold outside Italy.
Mopar Authentic Accessories for Fiat Models
The Fiat stand will also have a selection of top-quality Authentic Accessories that match they technical and style features of various Fiat models. Designed by Mopar, these accessories allow customisation like the Carbon Sport Kit for the Tipo with Piano Black elements or the Dark Pack for the 500X to enhance the trademark looks of this crossover. The Dark Pack also gives the car a sporty look with a Monster Matte black colour on the mirrors, moustache, door handles, tailgate handle and trims of the rear light clusters. Mopar Connect and 18-inch wheels are also available on request.
FCA Bank
The FCA Bank is making an appearance at the Geneva International Motor Show on the Fiat Chrysler Automobiles brand stands this year again. Special counters are staffed by finance experts where visitors will be able to find out about new, and current, offers for each market.
The FCA Bank provides finance and insurance products to support the sales of the car brands in 17 European countries, as well as Morocco, directly or through subsidies. It is represented by the FCA Capital Suisse in Switzerland.
Lifesytle
The FCA group is presenting some of the new licensing projects at Geneva that aim to expand the visibility of the brand.
These projects value Fiat's anniversary and showcase the brand's founding values. Visitors to Fiat's stand can view the Gabs Collection which is aimed at the Fiat 500 with new coloured SS19 capsule. The 500 Happy Space focuses on travel experiences through carton illustrated prints.
A new collection of products that can be found at Fiat dealers shows the brand's acronym, and a Geneva Motor Show exclusive 'Fiat Centoventi – made in Fiat' t-shirt will also available during the event.