News > Filipe Toledo and Nikki Van Dijk become part of the Jeep Ambassador family with Jordy Smith and Malia Manuel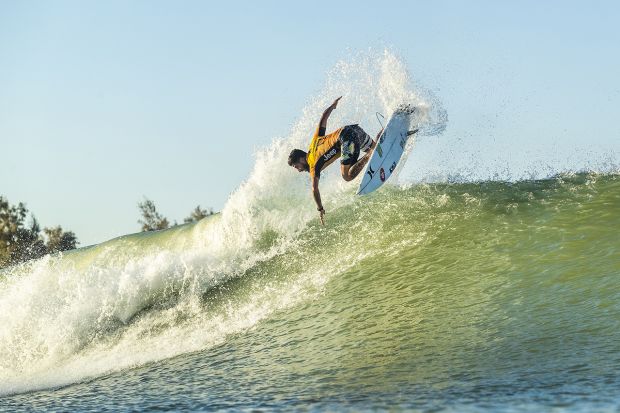 Filipe Toledo and Nikki Van Dijk are both athletes in the World Surf League (WSL) and have just been signed on as the latest Brand Ambassadors for Jeep with Jordy Smith and Malia Manuel. All four athletes embody every aspect of the Jeep spirit with their drive, high energy and fearless gusto to explore the world. Together, they will support the Jeep and WSL partnership for the 2019 competition season. Jeep is also the official and exclusive global part of the WSL Championship Tour, and is also the naming rights partner to the Jeep Leader Program for the Men's and Women's Championship Tour.
The "Make A Wave" initiative is an exciting new partnership on the cars as well, where each Jeep ambassador has collaborated with the brand and their own chosen organisation to donate time and resources to and help make a difference.
"I'm so proud to be representing the Jeep brand in 2019", Filipe Toledo said, "I've always been a big fan of the Jeep brand, so to be able to partner with them is really exciting. Their values as a brand align with mine in that they are all about giving back to the community. When I proposed collaborating with A Walk on Water, a surf therapy organisation that provides therapy to children with special needs, they were all about it. The support they gave both myself and A Walk on Water that day was next level".
Each surfer was given a chance to show how they make a difference to their community, and the "Make A Wave" initiative has a social media call to action for fans to #MakeAWave in their own communities.
The video series features Nikki Van Dijk and partner organization Girl Guides Australia; Filipe Toledo with A Walk On Water; Jordy Smith with Surfers Not Street Children; and Malia Manuel with Hawaii Community Foundation. All four videos can be viewed here.
Posts across social media by the likes of Facebook and Instagram will showcase the four WSL and Olympic athletes as they adventure in the water and on the road.
The Jeep and WSL global partnership will follow through into 2020, which is also the year that surfing will make its debut at the Olympic Games in Tokyo. Jeep became the first-ever exclusive partner of the WSL in May 2015, and was renewed as a multiyear deal.
There will be various on-site activations to showcase the surf vehicles supporting WSL events and meeting with fans on the beach at Championship Tour events. Jeep will also take this opportunity to highlight its product portfolio using WSL geo-targeted digital and linear media solutions.
Customers can explore what went down at the latest WSL events, the Jeep Leaderboard, and who is currently sporting the Jeep Leader Jersey via Jeep.com/wsl and via www.jeep.com/en/mobile/wsl on mobile. There will be plenty of surf content and interactive schedules of upcoming events, galleries, and some mind-blowing action in water.
The events will be broadcast live via WorldSurfLeague.com, the WSL app and on Facebook.com/WSL.
About the Jeep Brand Ambassadors
Filipe Toledo won seven CT events since 2015 and has taken the world by storm. Currently ranking at #3 on the Championship, he has his eyes set on securing his first World Surf League World Title in 2019.
Jordy Smith is one of the most recognised surfers in the world, returning for his third year as a Jeep Brand Ambassador. This South African powerhouse is a proven threat on tour as the two-time World Title runner-up, Jordy captioned the winning World Team at the 2018 Founders' Cup of Surfing at WSL Surf Ranch.
Malia Manuel is also a returning Jeep Brand Ambassador, and the youngest surfer to win the U.S. Open of Surfing in 2008 at only 14 years old. Known for her grace and style, this Hawaiian shows her passion for both fun and adventure, on and off the water.
Nikki Van Dijk is an easy-going surfer who secured her first Championship Tour Victory in Portugal in 2017 and has signed on her as her first year as a Jeep Brand Ambassador.