News > Mirafiori, the largest FCA complex in the world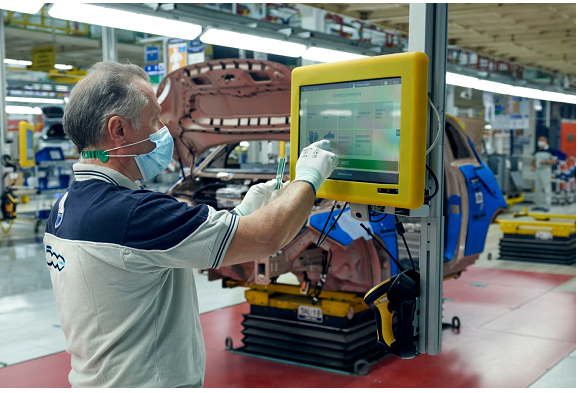 Following the launch of the New electric Fiat 500 last year the press was given access to the historic Mirafiori plant in Turin where around 20 000 people work every day to design and build some of the iconic vehicles that make up the FCA range. The complex houses engineering, design, sales, financial services and spare parts divisions and has been in operation for the last 81 years.

The New 500 production line, a concentration of technology and professionalism
To produce the New 500 the Mirafiori plant had to transform to adapt to building the non-ICE vehicle. Its specific production line features integrated augmented reality and the Manufacturing Execution System (MES) allows constant monitoring of the production line allowing data to be sent to suppliers in advance for greater streamlining of the building process. This system also organises the relevant parts into the sequence for the production line so they arrive at the correct station exactly as needed. These integrate with an online task monitoring system so team leaders can check on the progress of their production teams and supplies just by checking their smartphones.

Along the production process, these new 500's go through the Trim line, window assembly area and chassis department. Each of these denotes an area where specific items are added to the base vehicle ultimately resulting in a complete fully functional vehicle at the end of the line. The latest technology has been integrated into these lines with a large robotic presence to advance laser etching tools all of which are fully integrated into the intelligent management system that runs the whole plant. An additional benefit is the reduction in quality issues across the range and should any defects be detected by monitoring system across the production line they can be quickly identified and fixed reducing the chances of costly recalls after the vehicle is already sold.

A plant transformed for a new era of sustainable mobility
Mirafiori was first opened in 1939 and remains one of the longest-running car factories in Europe. It has a surface area of over 2 million square meters with an additional 12km of underground roads to assist in the transport of engines and components along with 20km of above-ground transport systems to move additional materials and complete vehicles.

The links between Mirafiori and its home city of Turin are strong, with the latest evolution of the plant the city has changed as well as the implementation of a vehicle-to-grid system that allows unused electricity from electric vehicles to be returned to the grid when needed. This works wonderfully once integrated with solar power production units that are being installed around the city.

Looking back at the plants history one finds some of Fiat's most iconic vehicles were born there with millions of vehicles having been produced here during its history such as The models produced at Mirafiori are: Fiat 500 (1939, although production began post-war in 1947), Fiat 1100 (1947), Fiat 1400 (1950), Fiat 1900 (1952), Fiat 1100/103 (1953), Fiat 600 (1955), Fiat 1200 (1957), Fiat 1800 (1959), Fiat 2100 (1959), Fiat 1300 (1961), Fiat 1500 (1961), Fiat 850 (1964), Fiat 124 (1966), Fiat 125 (1967), Fiat 127 (1971), Fiat 131 (1974), Fiat Panda (1980), Fiat Uno (1983), Fiat Croma (1985), Lancia Thema (1984), Autobianchi Y10 (1985), Fiat Punto (1993), Fiat Marea (1996), Fiat Multipla (1998), Fiat Punto (1999), Fiat Stilo (2001), Lancia Lybra (2002), Lancia Thesis (2002), Fiat Idea (2003), Lancia Musa (2004), Fiat Grande Punto (2005), Alfa Romeo Mito (2008), Maserati Levante (2016), New Fiat 500 (2020).

With such a rich history it is easy to see how this plant will continue to have a bright future well into the 21st century!