News > Mopar Introduces Jeep Gladiator Top Dog Concept at SEMA360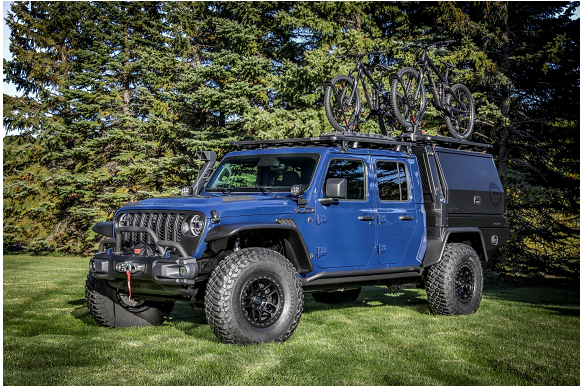 At the end of last year for the world-famous SEMA show, the Mopar team cooked up a special Jeep Gladiator based concept car.

Unlike usual years where a vehicle like this would be unveiled to packed crowds, due to the COVID-19 pandemic the 2020 edition of SEMA was run as a virtual show dubbed SEMA360.

The Mopar team used their exclusive Jeep Performance Parts catalogue and some custom items to transform a 2020 Jeep Gladiator bakkie, a close relative to the Wrangler Unlimited we get in South Africa, into a mountain bikers dream adventure vehicle and called it the Jeep Gladiator Top Dog Concept!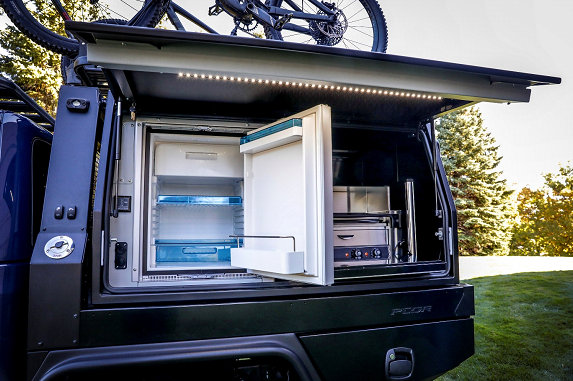 "Loaded with nearly 20 Jeep Performance Parts, we built this go-anywhere Jeep Gladiator Top Dog Concept for passionate mountain-bike enthusiasts," said Mark Bosanac, Head of Mopar Service, Parts and Customer Care, FCA – North America. "Across the entire Jeep line-up, we offer more than 500 quality-tested, factory-back parts and accessories."

"Built to handle the demands of an active lifestyle and offering one-of-a-kind open-air freedom, Jeep Gladiator is the perfect canvas for Mopar to push the envelope even further with the addition of an array of Jeep Performance Parts," said Jim Morrison, Head of Jeep Brand – FCA North America. "Mopar's new Top Dog Concept results in even more clever functionality and versatility for Jeep Gladiator."

The Gladiator was first painted in K-9 Blue paint and then the team went ahead and removed the standard bakkie bed to allow for a custom flatbed storage system to be installed. On the passenger's side of the storage system one finds pull out drawers for storing tools and supplied that an active mountain biker would need while on a trail, these offer multiple storage shelves and convenient light switches and power supplies for maximum practicality. On the driver's side of the system, one finds a refrigerator and pull out grill perfect for making some quick meals to top up a rider's energy before the next section of a trail. Above the storage areas are dual rack structures for tools and equipment as well as storage for mountain bikes, for night rides there are also some additional lighting to make sure you can see what you're doing.

To enhance the off-road capability of the Jeep Top Dog Concept the Mopar team fitted a 2" lift kit with FOX shocks, 17" bead-lock capable wheels with 37' BF Goodrich KM3 mud-terrain tires. To accommodate the new wheel and tyre setup the Top Dog was also fitted with steel 'high-top' fender flares. The Jeep is powered by the venerable 3.6L Pentastar V6 petrol engine and matched to the TorqueFlite 8-speed automatic transmission. In terms of additional off-road equipment the Top Dog Concept features a Jeep Performance Parts (JPP) Rubicon bumper with a 2' steel grille guard, this houses a Rubicon Warn winch. The concept also features several additional JPP accessories such as custom black hood latches, snorkel, off-road LED lights, rock rails, custom black door-sill guards, 2nd rear winch and a foldable ladder for better access to the top storage rails.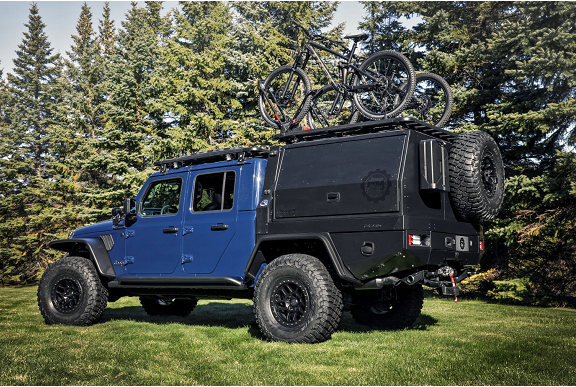 Inside the Top Dog Concept, the exterior theme has been continued featuring the K-9 blue along with black leather seats and blue stitching to give a luxury touch to this otherwise hardcore off-roader. It also comes with stainless-steel pedal covers and all-weather floor mats installed throughout the cabin area.


Mopar
Mopar (a simple contraction of the words MOtor and PARts) is the service, parts and customer-care brand for FCA vehicles around the globe. Born in 1937 as the name of a line of antifreeze products, the Mopar brand has evolved over more than 80 years to represent both complete care and authentic performance for owners and enthusiasts worldwide.
Mopar made its mark in the 1960s during the muscle-car era, with Mopar Performance Parts to enhance speed and handling for both road and racing use, and expanded to include technical service and customer support. Today, the Mopar brand's global reach distributes more than 500,000 parts and accessories in more than 150 markets. With more than 50 parts distribution centres and 25 customer contact centres globally, Mopar integrates service, parts and customer-care operations to enhance customer and dealer support worldwide.