News > The New Fiat Fullback: 2018 Best Bakkie WINNER!

William Simpson, Fiat Cape Town – Yes, the Fiat Fullback has made it once again into the Best Bakkie list for 2018 and WON! The updated Fiat Fullback model has been crowned Best Bakkie 2018 by Bakkie & Car Magazine. It silently slipped onto the rankings before the arrival was announced to the public!
The Fullback may resemble a rival but has the advantage of the latest and innovative 133kW 430Nm 2.4 litre which the flagship Fullback now sports. Currently only available in 4x4 automatic for now, the New Fiat Fullback is both more affordable and sports better features than its kissing cousins.
What makes this Fullback an astonishing performer is the brand new next-generation aluminium block four-cylinder turbo-diesel engine with its combination of a fast-spooling turbocharger and low compression ratio of 15.5:1 for responsive torque at low engine speeds. Its all-aluminium cylinder block sports reinforced steel piston sleeves that weigh-in 30kg less than before. A combined common-rail direct injection system adds to the smaller engine's throttle responses for a focused driving experience.
The shortened wheelbase, revised stabiliser bars, stiffer front springs and stiffer rubber body mountings on toughened ladder frame chassis makes for better road holding, ride excellence and less body lean. Thanks to the more direct Hydraulic Power Steering the handling is better and the tightening of the cornering radius improves off-road use.
New Fiat Fullback Features
The interior is stylish, spacious and soundproofed with reduced vibration and noise, supportive seats, optimised driving position and leather upholstery, matching dashboard styling, automatic dual zone air conditioning and a state of the art infotainment system. The new look Fiat Fullback comes standard with driver and passenger airbags, as well as a range of safety systems:
Load Sensing Valve
Electric Brake-force Distribution
Anti-lock Braking
Electronic Stability Programme with Hill Assist for improved uphill pull-offs
Bi-xenon headlights
Rear-view camera
Just when you thought it couldn't get any better, you can look forward to many more extras found on the Fiat Fullback LX Sport model, such as:
Easy Select 4x4
Cruise control
Touring suspension
Chrome accents & body coloured bumper
Chrome bezel
Electric windows
17" alloy wheels
Isofix child restraint system
Even off-road driving is easier with the Easy Select 4WD setup which, by turning the diff knob, sends maximum torque to each wheel via the 5-speed automatic gearbox.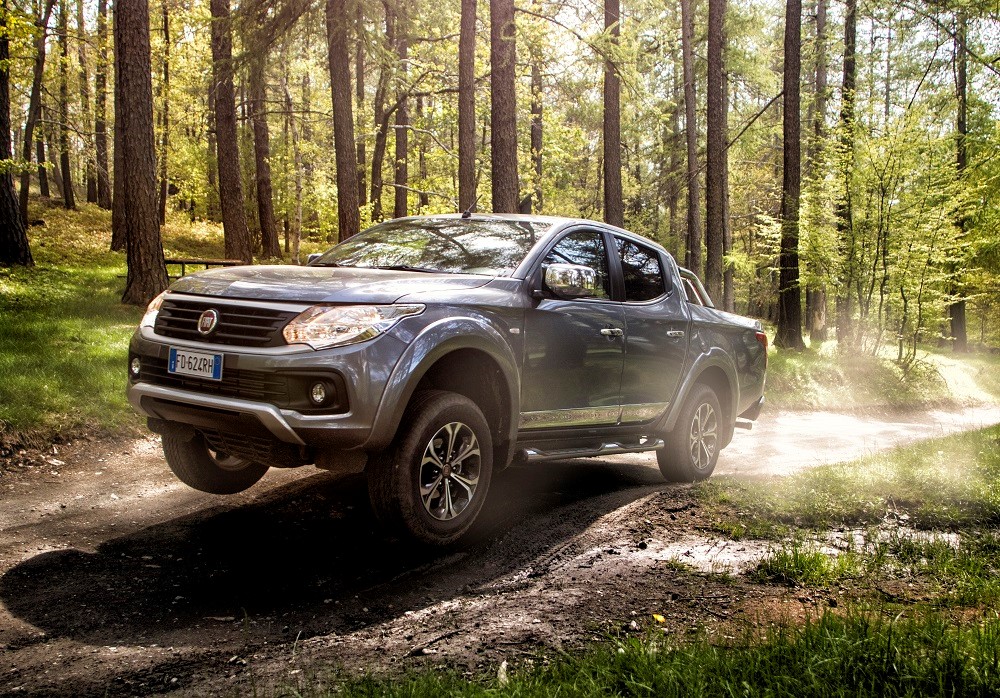 The Fiat Fullback is designed with sharp crease and curvature lines, aerodynamic elements and wraparound lamps the Fiat Fullback's exterior turns heads!
NEW FIAT FULLBACK SPECIFICATIONS

Engine

2442cc turbodiesel

Power

133kW @3500rpm

Torque

430Nm @ 2500rpm

Power to Weight

83kW/tonne

Specific Power

53kW/litre

Drive

5-speed automatic 4x4

Payload

968kg

Max Towing Capacity

1500kg

ROAD TESTED

0-60km/h

4.52sec

0-100km/h

10.13sec

0-120km/h

13.81sec

400m

17.1sec @ 134km/h

CLAIMED

Fuel

7.8l/100km

CO2

207g/km

List Price

R499 900*