News > Alfa Romeo Stelvio Quadrifoglio Named World's Fastest Production SUV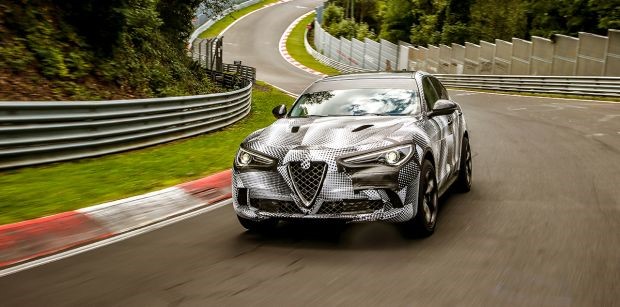 Alfa Romeo Cape Town, 29 September 2017 – With a record lap time at Nürburgring of 7 minutes 51.7 seconds the Alfa Romeo Stelvio Quadrifoglio SUV has outdone its competitors.
This comes as no surprise as the innovative Q4 all-wheel drive paired for the first time with a 2.9 V6 Twin-Turbo 510 HP engine and torque vectoring differential, Chassis Domain Control, and aluminium column-mounted paddle shifters increase the driving experience.
Alfa Romeo earned the bragging rights as they now hold two Nürburgring lap time records with the Giulia Quadrifoglio and the Stelvio Quadrifoglio. With the Stelvio Quadrifoglio setting a high benchmark lap time at Germany's infamous Nürburgring by lapping the 12.9 mile north loop in a record time of 7 minutes 51.7 seconds, the SUV was a full eight seconds faster than the previous record for a production SUV.
Fabio Francia, the same driver who set the track record for the fastest four-door sedan in the world on the Nürburgring with the Alfa Romeo Giulia Quadrifoglio in a time of just 7 minutes and 32 seconds, established the Stelvio Quadrifoglio record.
The all new Alfa Romeo Stelvio, with its Italian passion and innovative craftmanship, is designed to master the winding road for which it was named. The Stelvio achieves the most horse power per litre in its class and widely integrates lightweight, state-of-the-art material that delivers perfect 50/50 weight distribution, segment leading torsional rigidity, class-exclusive carbon fiber, driveshaft and the most direct steering on the market.
The all-aluminium 2.9 litre V-6 Twin-Turbo, premeditated to improve the all-new lightweight Alfa Romeo architecture, features a compact 90-degree outline and was previously designed for a low centre of gravity in the chassis, and delivers 510 horsepower and 443 lb.-ft. of torque which has, for the first time, been paired with a standard Q4 all-wheel-drive system.
Another advanced feature is a four-mode Alfa DNA Pro selector with Race mode, torque vectoring differential, Quadrifoglio-tuned adaptive suspension and cylinder deactivation system to maximize fuel efficiency and the engine is paired to an eight-speed automatic transmission with specific settings for shifting in just 150 milliseconds in Race mode.
Ultra-high-performance options for Stelvio Quadrifoglio include:
Ultra-lightweight carbon fiber shell Sparco racing seats, providing maximum lateral support during extreme cornering thanks to more aggressive bolstering, and designed to be the lightest in the segment, while providing comfort for long road trips.
Ultra-high-performance Brembo carbon-ceramic material (CCM) brake system.
Alfa Romeo took on the task of creating the perfect combination of high performance, authentically sporty driving dynamics, Italian style and engineering technology with the comfort and roominess features which are typical of this segment and they have outdone themselves!
Wondering how you can get your hands on the Alfa Romeo Stelvio Quadrifoglio SUV in Cape Town? Make sure to contact us at William Simpson on 021 001 4411 and make sure to watch the new record at Nürburgring being made with the Alfa Romeo Stelvio Quadrifoglio in the video below!