News > Welcome to the Concrete Jungle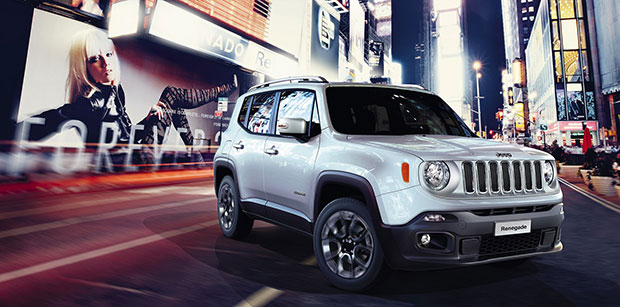 Fast Facts about the 1.4L Limited Jeep Renegade
0-100km/h: 11.41 seconds
Power/Torque: 103kW / 230 Nm
Fuel Index: 7.2L / 100km
A Jeep driver has a persona firmly entrenched with rugged terrain experiences and close-shaves in the bush but with the growing popularity of the friendly town-travelling compact SUV market, Jeep needed to get in the game. And thus, the Jeep Renegade was presented to a welcoming public.
At William Simpson, we truly love the playful nature that the quirky Renegade includes. From the taillights to the trunk (boot), there are little Easter Eggs (or hidden stylistic elements) that drivers can continuously discover every time they sit inside a Jeep Renegade. And it is this powerful and playful nature both under the bonnet and in its stylistic surprises that makes the Renegade such a great vehicle to drive.
The Jeep Renegade has slim-lined its rugged appearance but still retains its macho aesthetic – but has refined the overall aesthetic to appeal to both sexes. It is still in keeping with the adventurous energy that Jeep fans know and love, but it is now in a far more fuel efficient and more compatible for the city life.
The Renegade is compact in size but the interior is quite generous and offers plenty of space for adults both in headroom and shoulder space – making it the perfect city-friendly vehicle, as it offers plenty of room inside, while not taking up too much parking space when you take it on a dusty wine lands tour or a city-cruise around our beautiful South African cities.
When driving the Jeep Renegade, you get a gruffness that reminds you, that you're driving a Jeep but the smoothness of ride, means you can take it on rougher roads that offer minor obstacles to the snaking roads from bustling town to quiet dorpie.
Create your own adventure in the new Jeep Renegade - make sure to visit the William Simpson Newlands branch or book a test drive online today.