News > William Simpson Named Fiat Dealer of the Year

Fiat Group Automobiles South Africa Dealer Awards
Midrand – Fiat Group Automobiles South Africa (Pty) Ltd., importer of Fiat, Fiat Professional, Abarth and Alfa Romeo brand vehicles locally, held its annual Dealer of the Year awards banquet on Friday night.
The gala function, held under starry skies at Hayward's Grand Safari east of Pretoria, saw a number of awards being handed out to the leading dealerships, recognising and celebrating the success of the Fiat and Chrysler group brand dealerships countrywide.
The luxury African safari lodge provided the perfect backdrop to the awards for FGASA's top achievers: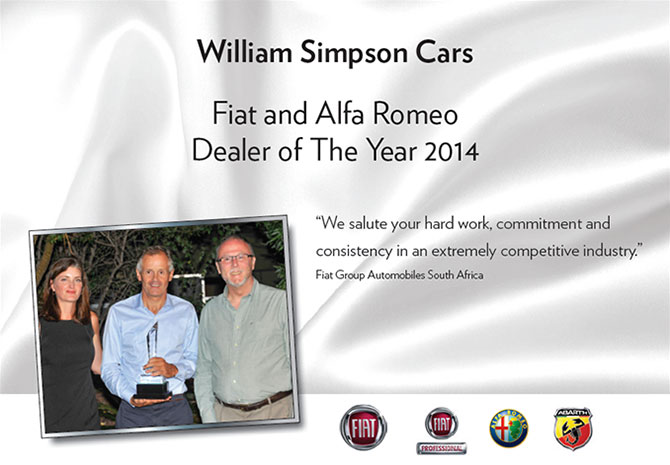 From left to right
1. Erika Rohland Group Head Network Development
2. William Simpson, Owner of William Simpson Cars
3. Trent Barcroft CEO Managing Director FCA South Africa
William Simpson Cars is the oldest and most established Nissan, Fiat and Alfa dealer in Cape Town with branches in Tokai and Claremont.
William Simpson Cars walked away with the following


- Fiat Dealer of the year (in our category)
- Fiat overall CSI achievement
- Fiat sales to target award (highest achievement in country)